Is your roof damaged? Maybe there was high winds, hail, or even a hurricane that came by. Either way we know when it comes to the roof insurance claim process it can be very confusing and intimidating. You might have door knockers, companies calling you, direct mail etc. That's why we made this blog to help you understand the process so you do not get taken advantage of.
Insurance Claim Process into 5 Easy Steps
Notice Stage
Inspection Stage
Insurance Claim Stage
Scope of Work
Roof Replacement
As soon as you see any sort of storm damage document as much as you can. Take pictures of everything you see whether it is the actual hail falling, broken windows, missing shingles, etc. Storm damage can come from Hail, High Winds, Tornadoes, Hurricanes, etc.  Most importantly roving damage is essential for your insurance claim.
Your insurance company will likely ask you to call a local roofing company to inspect your roof. You might have door knockers coming to offer services or you might see yard signs everywhere of roofing companies. Above all we recommend going to google and searching for a local roofing company. Do your research in picking the right roofing company as you will likely go through the process with them if you do have storm damage.
Quick Checklist Before You Hire A Roofing Company:
Local to your area
They have been in business for years
Have an online presence
Check for good Google reviews
Preferably Licensed & Insured
A+ BBB Rating
That roofing company will come out and do a roof inspection. If they find significant hail or wind damage to your roof they will explain the process and tell you to call your insurance company to file a claim. Your insurance company will give you a claim number and a time a insurance adjuster will come out to your house. Give all that information to your roofer. 
Sometimes a roofing company will have a contingency agreement. It is basically a contract stating they are representing your best interest and it gives them permission to talk to your insurance provider and give all necessary documents. And if your insurance claim is approved they are the ones that will do the job.
Contingency agreements protect contractors and it will not hurt you. That's why we recommend doing your research on a roofer first. If a doorknocker comes to your home and you do not feel comfortable we do not recommend signing a contingency agreement. 
STEP 3: INSURANCE CLAIM STAGE
Once you call your insurance company they will start the claim process and have an adjuster come out. The adjuster will come out and do full inspection and report on your property. It is best to have your roofer come out there at the same time. The roofer is there to help the adjuster and make sure everything is accounted for and they are on the same page. 
Afterwards the adjuster will talk to you and turn in the report. They will likely submit everything to the desk adjuster and they will determine whether to accept your claim or not. If accepted you will get a packet of papers through the mail. It will explain your insurance policy, damaged covered, and what they are paying. It can be confusing if you have never done an insurance claim. That's why it's important to choose the right roofer to help explain the paperwork.
When you review the insurance claim report go over the scope of work with your roofer. The insurance company will likely use a software called xactimate to create the scope of work. It will have everything itemized down to the quantity. However at times the xactimate is incomplete and is missing line items. Your roofer is doing the work that the insurance company authorizes. So its best to make sure everything you need is included.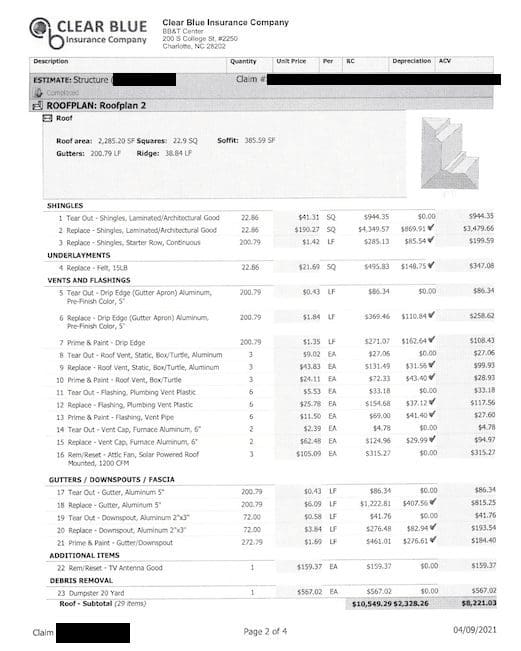 Once everything on the scope looks fine your insurance company will send you your first check. Talk to your roofer to schedule the job. You will give the first check to your roofer along with the deductible that you owe. As soon as the job is completed and you are satisfied with the work. Your roofer will send the last invoice along with any other documentation your insurance provider asks for to release the last check. Once you receive the last check give that your roofer and that is it. You have a new roof now.