How to Read An Insurance Estimate? Did you have recent storm damage to your home? You called your insurance company to file a claim and had an Insurance Adjuster come out to review the damage.
Great News! You got approved and received an Insurance Claims Report to cover the repairs. As you look over the estimate you have these common questions:
What is RCV?
Depreciation Explained
What is ACV?
What's my Deductible?
What's the Difference between RCV & ACV?
NOTE: In 2022, we have seen an unprecedented labor shortage as a side effect of the COVID-19 pandemic. The demand for materials has skyrocketed. As a result, materials prices have been changing almost monthly (about 5-7% increases).
Below we will use a Real-life Example of an Insurance Claims Report from State Farm from April 2021. We have made sure to blur out all personal information. 
We are not by any means Insurance professionals just a Roofing Company that has seen/written many Xactimate estimates and want to share our knowledge & point of view as a roofing contractor.
The insurance industry primarily uses software called Xactware to format insurance estimates. The specific program is called Xactimate.
Xactware maintains fair market pricing for both materials & labor adjusted to each city or region-specific pricelists updated monthly.
It's a way for an Insurance Company & Contractors to agree on pricing.
RCV (Replacement Cost Value)
The total amount that your insurance company has estimated as the cost of repairs to your property. 
The insurance company will apply depreciation to your damaged property based on the product's age and "life expectancy". The decrease in the value of the property over a period of time due to wear, tear, and condition
Let's say you have a roof that lasts 30 years and it has been 15 years since the roof was installed. That means 1/2 of its lifespan has been depreciated because over time it loses its condition. 
This is your share of the cost of the repairs. Legally, this amount is your responsibility to pay your contractor.
The amount that your insurance company has estimated as the cost of repairs TODAY, includes depreciation.
RCV – (Depreciation + Deductible)
If your claim has recoverable depreciation, that is money you will receive after you have incurred the costs of the repairs. 
If you have Replacement Cost Value coverage in your policy, your depreciation should be "Recoverable".
Non Recoverable Depreciation
If your insurance coverage is Actual Cash Value, then the amount of the depreciation will be Non-Recoverable. This means you will not receive the depreciation amount as part of the claim, so your share of the cost of repairs will be much higher.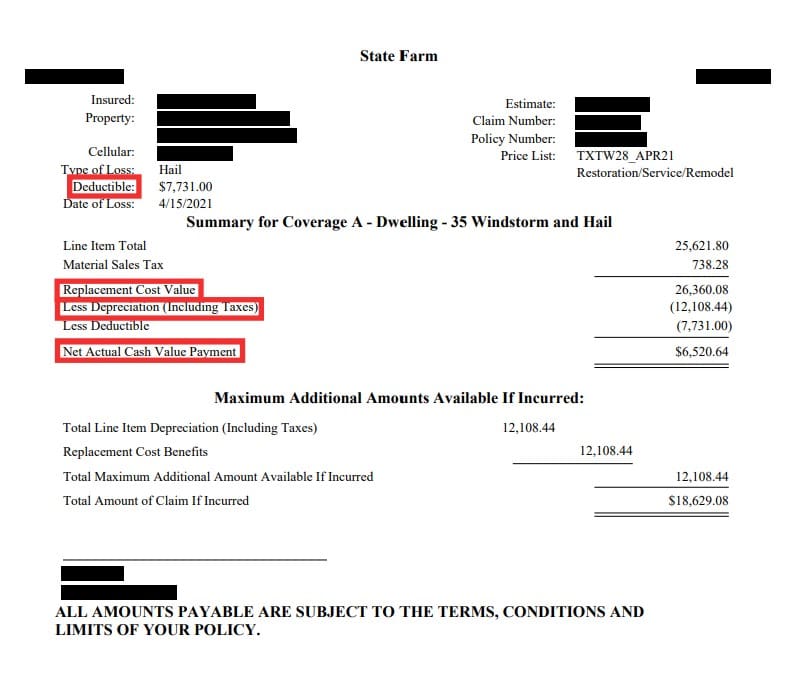 Breakdown of Estimate (Roof Section)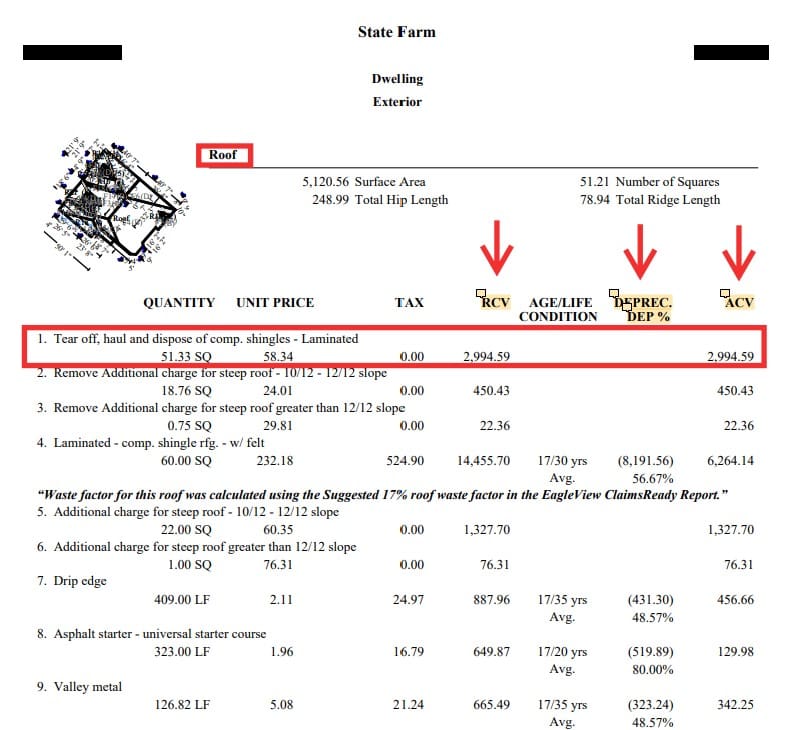 When we are hired by you as the roofing contractor our main focus is making sure every LINE ITEM is included by the Insurance Company to complete a proper restoration of your roof in accordance with local codes.
Let's look at the Drip Edge at Line Item #7. 
As a roofing contractor, we will replace the 409 Linear Feet of Drip Edge of your home. Every foot of Drip Edge costs (Material & Labor) $2.11.
Replacement Cost Value=$887.96
Depreciation=$431.30
Actual Cash Value=$456.66
The actual Replacement Cost is $887.96 but since the roof is 17 years old it has depreciated $431.30 so Today's Actual Cash Value is $456.66.
Summary With Multiple Categories
We love using this insurance claims report because it has multiple categories & shows you the breakdown for each trade.
As the roofing contractor, our replacement cost value to replace your roof is $23.396.39. 
The total to restore this home from Hail Damage is $26,360.08 based on Xactimate pricing & correct line items. Since the home is older & it has normal wear & tear the depreciation is $12,108.44. In turn, the actual cost to restore the home based on its condition is $14,251.64.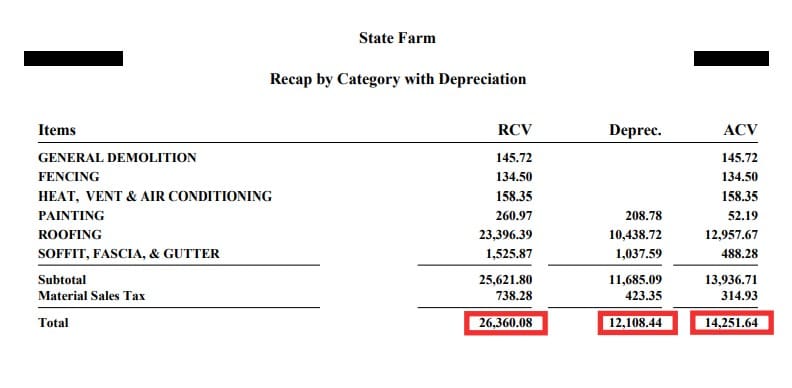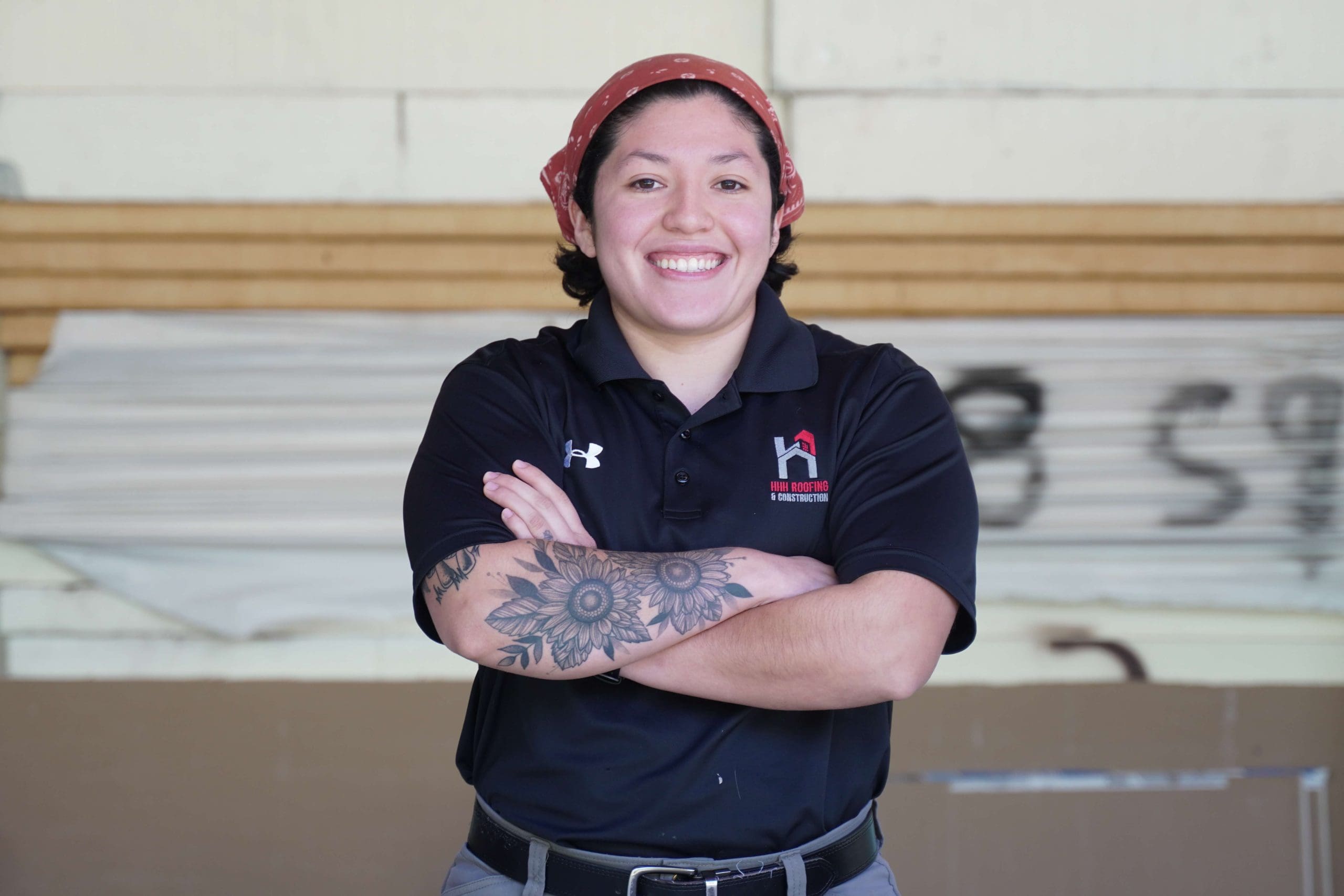 Here's what's to expect
A thorough roof inspection to assess its condition and identify any potential issues and provide customized solutions for issues as small as one missing shingle to full roof replacements.